This year was a great time for me at the Joint Base Andrews Air Show. My good friend and fellow photographer Mark was able to get us in on Friday, which is really the preview day. Friday's are for DoD and their guests as well as a number of other special groups. Generally this leads to a smaller crowd. We also had great weather this year. One other bonus was that while the near runway was still closed, the performers would be able to fly over it this year, allowing them to be much closer to the crowd than last year.
Speaking of closer, when Mark and I got to the show line, we were able to walk right up and place our chairs on the fence, right in front of the Blue Angels aircraft. I have never been that close to the headliner at any air show before and it lent itself to some wonderful pictures. The picture above shows Blue Angel #3 sitting on the ramp directly in front of where we placed our chairs. My 24-70mm lens almost wasn't wide enough for being this close!
After placing our chairs as placeholders on the fence line, both Mark and I proceeded to wander around the static display aircraft. One of the highlights for me was getting an up close and personal look at one of the NASA Super Guppy aircraft. This is a huge turbo-prop aircraft that is just amazing to see in person.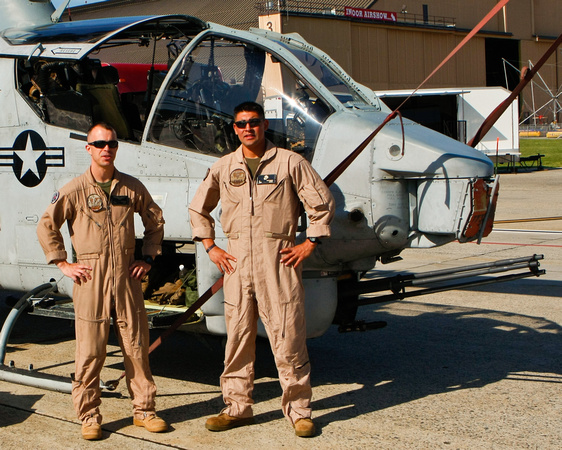 Something I've been trying to do more of recently is getting pictures of the crews with their aircraft. Some seem surprised that I want them in the picture and others are more than happy to pose for me. I have a great deal of respect for these men and women who volunteer to protect our country as members of the Armed Forces. This is one way I'm trying to remind others that there are real heroes out there who look out for us every day.
You really get a feel for how low these performers are getting when you see them pass behind and below the aircraft sitting right in front of you. You get some idea of that watching Sean D. Tucker as he slides his Oracle Challenger bi-plane behind and between Blue Angels #1 and #2. Mr. Tucker puts on one heck of a show every time I see him.
A first for me was the actual flight demo by the MV-22 Osprey at this year's show. I've seen plenty of them on static display at numerous air shows, but I have never seen the demo. Watching this aircraft transition from helicopter to airplane was definitely worth showing up for this year. The crew put on a fantastic demo for us. The only unfortunate thing for me was that our great seats were too good at this moment. The Blue Angels crew came out to run the engines during the Osprey demo and as a result none of my head on pictures turned out real well due to excessive heat haze from the running engines on the F/A-18s. I still managed to get a few decent shots.
The Red Bull crew was there this year as well. This included a helicopter that did loops and rolls. No, really. The highlight for me was this shot where Kirby Chambliss is racing the Red Bull skydivers in his Edge 540 aircraft. The sky divers nailed every landing, just off to our right on the flight line. Kirby brought his Edge 540 down to ground level, sliding it down the runway and waving to the crowd.
So back to the front row seats. This was the best access I've ever had, thanks to Mark! I was right there for the afternoon engine run and to watch the crews polish the aircraft. Then, for the first time, I was able to watch the launch pomp and circumstance from the preflight check seen above to the taxi out. Seeing the precision with which these fine military men and women do their jobs always leaves me impressed.
Of course that means the Blues get up and do their thing. And they do it well. I caught #6 coming from behind the crowd and decided to follow him overhead the entire time. I was very happy with how this shot turned out. The entire show was really fantastic. Lots of cool static displays for you to wander through, maybe not as much as at past shows, but with the budget cutbacks, it's hard for me to complain about the number of static aircraft at a FREE air show. Lots of great airborne stuff as well, including the F-22 demo, a Harrier demo, a T-6B demo, the GEICO skytypers, the US ARMY Golden Knights parachute team, the Wounded Warrior flight team and several other acts. Check out all the rest of my pictures from Andrews here.